How does the Foundation manage investments?
Envestnet | PMC

manages three investment funds for our investor partners that are broadly diversified and optimized to fulfill the prudent needs of churches and other organizations that seek the highest quality investment outcomes aligned with socially-responsible and ESG / impact mission objectives. The three fund names—Conservative, Moderate, and Aggressive—reflect their relative risk / return profiles. The pie charts below depict the asset allocations of the three funds, which hold the same underlying investments in different allocations according to their risk / reward profiles.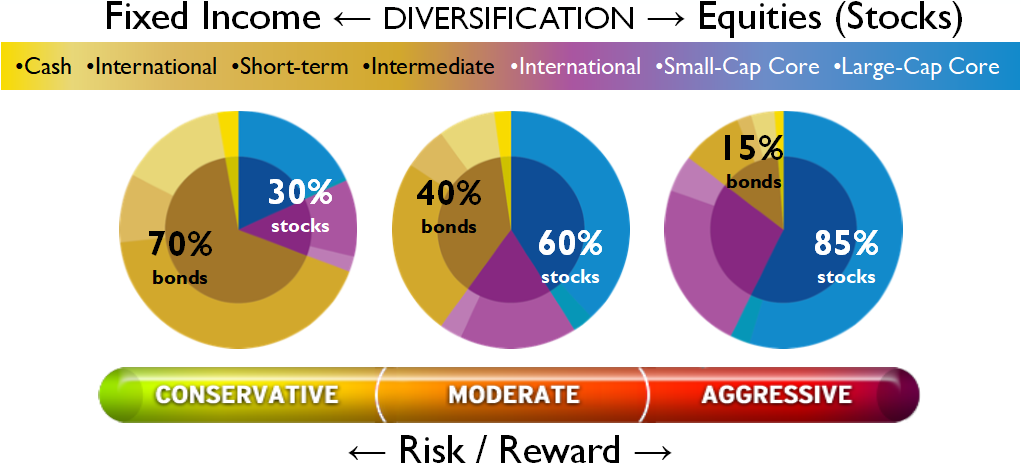 ---
How does the Foundation compare to a local Investment Advisor (IA)?
There are thousands of financial advisors all over the country, many of whom work for networks with well-known national brand names. There are many different types of professionals who provide financial advice and services: brokers, investment advisors, accountants, lawyers, insurance agents, and financial planners. It can be confusing to understand who you're really working with and what are the costs. Beware of commission-based investment services. Read this article for information on the "Problems of Commission-Based" advisors, namely such advisors do not have to follow the fiduciary rule when managing your church's or organization's money.
The Foundation's ALL INCLUSIVE annualized fee structure is about 1%, based on assets under management. There are no other "hidden" costs. Considering the other considerable differences, such as socially responsible and ESG / impact investing, we're confident the Foundation's investment management services provide you and your church or organization superior value in aligning your investments with your mission. (For more information, see the UMC's resolution on "Investment Ethics" and ¶ 717 "Sustainable and Socially Responsible Investments" in The Book of Discipline of The United Methodist Church.)
A note about IA fees: getting an accurate representation of all of the fees and costs from IAs can be difficult to retrieve and to understand. According to PriceMetrix's report, "The State of Retail Wealth Management 2016," the average IA charged an annualized fee of 1.07%. In addition to the IA's fee, there are the expenses of the mutual funds or other investment products the IA uses to construct your investment portfolio. According to Morningstar, the "simple average expense ratio of the largest 2,000 funds" is 0.72%. While the "asset-weighted average expense ratio across funds was 0.57% in 2016," Morningstar reported, "the fund industry is not cutting fees on the most widely-held funds." According to these industry averages, you may annually pay at least 50% more in fees with a local IA compared to the Foundation. In addition, there may be several other costs with your investments managed by a local IA, such as trade commissions and fund "load" fees, even fees to open and close your account.

Detailed information about investment management by the Foundation is available on request.
Contact us to learn more or to schedule a time to meet with you.