Envestnet | PMC

manages three investment funds for our investor partners that are broadly diversified and optimized to fulfill the prudent needs of churches and other organizations that seek the highest quality investment outcomes aligned with socially-responsible and ESG / impact mission objectives. The three fund names—Conservative, Moderate, and Aggressive—reflect their relative risk / return profiles. The pie charts below depict the asset allocations of the three funds, which hold the same underlying investments in different allocations according to their risk / reward profiles.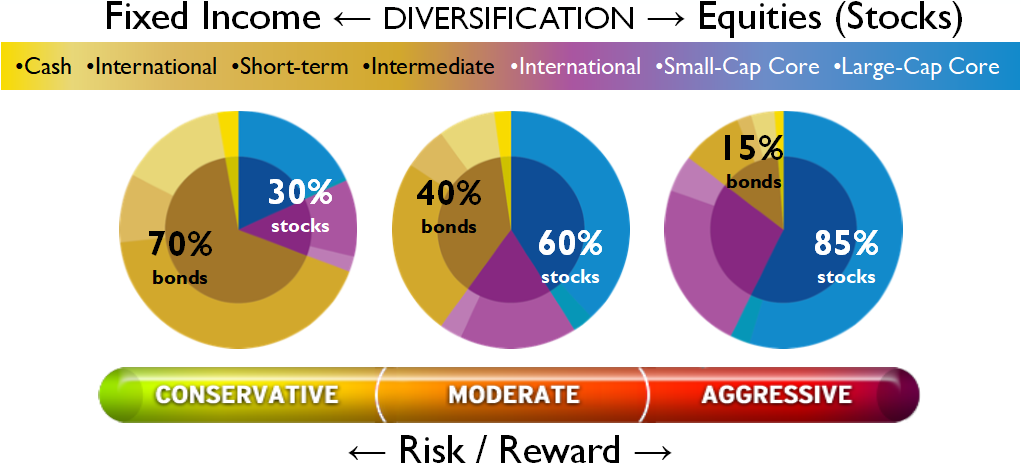 Forms: visit the "Resources" page for forms relevant to account holders.
Fund Performance: visit the "Investment Performance Reports" page for information on the Foundation's funds at the pooled fund level.
Model Allocation Calculator: download Excel file here
Read the Foundation's January 2018 announcement about ESG / impact investing.
Visit the "Investments Overview" page for more information, namely the Foundation's competitive fee structure.
The Foundation's Investment Policy Statement guides our Investment Program, giving direction to the Investment Committee of our Board of Directors.  The Investment Committee meets at least quarterly with our Investment Consultant, Envestnet | PMC.
Detailed information about investment management by the Foundation is available on request.
Contact us to learn more or to schedule a time to meet with you.