The United Methodist Foundation welcomes Demetra Kidd as Client Relations Associate!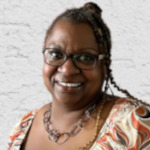 Demetra joins the Foundation after a successful twenty (24) year career with the Northern Trust Company in various roles within Treasury Management and Asset Management. Her most recent role was Vice President, Senior Consultant on the Client Administration team within Asset Management. She was responsible for ensuring that all the Institutional clients were onboarded and tested successfully within the (BPM) Business Process Management System.
"Demetra brings to the Foundation tons of experience in the business world," said Rev. Chris Walters, Foundation President & CEO. "She is learning the various systems employed by the Foundation, and then Demetra will grow into the new role of expanding client relationships with Foundation ministry partners and service providers to benefit local churches and other clients of the Foundation. She brings a deep commitment to the local church and the mission of spreading the Good News of Christ!"
She attended Langston University in Oklahoma and obtained a degree in Business Administration. After graduating, she worked as the Office Administrator for the City of Tulsa Fire Marshal's office for six years. Demetra is a member of New Life Covenant Church. She enjoys teaching, reading, and volunteering within her community. She has two adult children: Khadijah and Marcus Kidd, and a four-year-old granddaughter, Ameera.
You can reach her by phone (312) 803-4801 or by email dkidd@umfnic.org